Visuals play a very important role on Facebook. According to Socialbakers, 87% of the top most engaging posts are photos. It's pretty simple! We all attracted by visuals. We're in the age of the visual culture. There are a lot of ways you can fully utilize visuals in your marketing. This post will dive deep into them and show you how you can fully utilize our visual senses in your Facebook marketing.
1. Show a personal side
Simply put, Facebook was not built for businesses to promote their product. It was build for people to engage and keep up-to-date with their friends and family. One of the mistake businesses make is they treat their page like how they approach traditional advertising. They promote immediately. Instead, it should be used to blend in together with other posts, like how people have been using this platform before businesses infiltrated this platform. A way to do this is to show off their more personal side.  
2. Spotlight employees
Do you have employees working for you? Highlighting your employees is a great way to make your business more human and give them a more personal touch. A way to do this is by showing people behind your company and give more information about them.
You could:
•Highlight their thoughts for the day

•Share what they love about their job

•Show off how they rock their day to day work
3.  Post engaging questions
Posting questions or fill-in-the-blanks is another great way to build engagement on your Facebook page. In general, people love to share their thoughts. They like to feel heard or feel that they have contributed something.
4. Show behind the scenes
What's happening in your day to day business that you can show to your fans? Go behind the scenes and give them feel like they are a part of your company. You can showoff what goes behind every product development, a near complete renovation of your store, your employees enjoying their work, your team working on a product that you'll be launching soon etc. The possibilities are endless. Whatever it is, it will definitely be appreciated.
5. Use quotes
Quotes work well because in general, people can easily relate to them, because of that, they get liked and shared easily compared to more targeted content.
6. Show your product
You can definitely use visuals to showcase your products. Let's start with the most common way businesses approach this. They would usually share photos taken from their website, posts them with a share a link to their website. While this is okay, it can be improved. A better way to do this is to showoff your products getting used in real life. It could be a photo that your customer shared with your recently to even one of you founder or employees using your products.

7. Share tips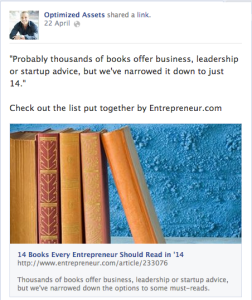 If you want your fans to constantly engage with your Facebook page you have to consistently add value on your Facebook page. A way to do this is by sharing short visual tips that fans would be able to learn without reading an article. It's like simple takeaways. You could easily find these types of tips online. You should be able to do them in no more than 10 minutes.

8. Share testimonials
Instead of constantly promoting your product and telling people how good your product is, why not get your fans to do the talking for you. An honest praise or review from happy customers will always be more effective than a sales copy or you constantly trying to sell to your customers. What you can do is simply ask your customers to share their reviews with you and in return they would get a couple or a discount for future purchases. A win-win for both parties. Alternatively, you can highlight them as your fan of the week too.

---
References
– http://blog.canva.com/8-ways-to-use-visuals-to-market-your-business-on-facebook/