Do you want more traffic, leads, and sales? Read below and let us help you build a scalable sales system.
My Simple Three Step Framework Doesn't Require Complicated Funnels or Webinars…
From the Desk of Nate Kennedy
Dear Friend,
If you're someone who's tried running ads, making sales, helping clients, and actively working to grow your business…
AND
You're tired of having sales calls with the WRONG People causing your business to settle for mediocre profits.
This is going to HELP YOU OUT.
I have an offer you simply cannot afford to miss.
How To Generate Qualified Sales Leads & More Revenue Using The 3 Most Powerful Marketing Frameworks For Creating A Scalable Sales System.
… All While Building Your Brand And Becoming
"THE Undeniable Authority" In Your Field.
The goal of any business owner is growth, time freedom and revenue.
Heck, the simple fact you're reading this page tells me you want more.
…And it's not just more money.
Sure, that's great.
But what I would imagine you're after the same things many entrepreneurs work their entire lives for.
– Time. Not being stuck in your business, chasing a sale, and having conversations with all the wrong people.
– Consistency. Know without a shadow of a doubt you can create income without having to be "in" your business every day.
– Confidence. There's so much noise in the marketplace, how do you stand out from all the 'Look-At-Me' marketing types.
I've spent over a decade marketing and selling "in-the-trenches", with millions of ad dollars spent in my own business and for clients, with tens of millions in revenue created.
The one thing I have learned is there is no super-wiz bang, game changing hack that will 10X your business overnight. (funny, but true)
The only way to truly accelerate growth without sacrificing profitability is to find the key to unlock your…
All You Need Are 3 Simple Marketing Frameworks
Content Engine Framework – Most people struggle with simplifying their message enough that people actually know how they help. It becomes easy if you reverse engineer the psychology, needs, and desires of your market, so people like you and want to buy from you.
Sales Machine Framework – Most entrepreneurs are wasting time on tripwires, webinars, and complicated sales funnels. Others are giving value and bonding with their audience, so their offers become recommendations instead pitches.
Traffic Playbook Framework – Most businesses attract the wrong people that waste time, money, and valuable resources. When they start to strategically use Social Traffic you can turn complete strangers into raving fans and customers, quickly.
Execute These 3 Frameworks And You Will…
Begin to attract the right people
Quickly build your authority before any sales call happens
Accelerate the time line between prospect first touch to the cash-in-hand close
Reduce all the friction in the sales process
Differentiate yourself from the competition and turn you into an influencer
Increase your impact and reach – quickly
Similar to the results we have helped our clients get…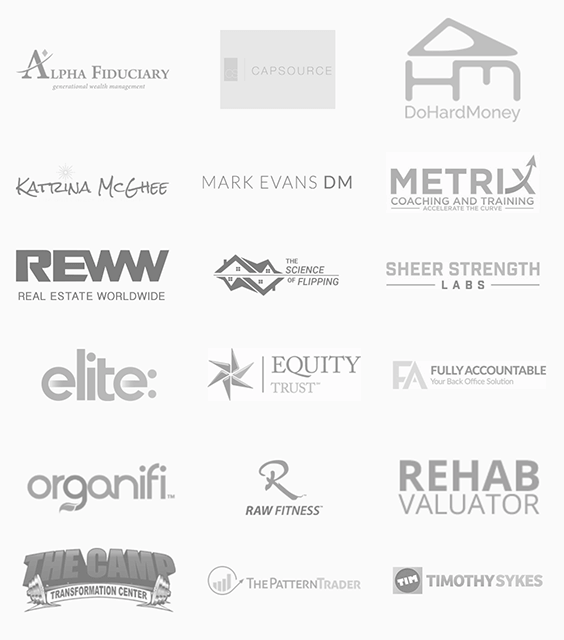 Here are just a few of the specifics..
A fitness franchise went from 10 locations to over 100 transformation centers.
A Marketing Agency scaled from startup to $120K+ per month within 18 months.
A Real Estate Coaching Company grew to an 8-figure business.
A Consultant was able to go from $85K per year to $85K per month within 4 months.
Now, the reason more people aren't building these systems out is because it's HARD. The hardest part isn't the actual 'building,' it's the FINDING…
"Who is the best & most profitable client for my business?"
"What is the best way to accelerate the time between prospects first touch to turning them into a cash-in-hand client?"
"How do I position my business to be the Industry Premium so I can raise my prices without putting in more hours?"
"What do I say in my social ads to attract the right prospects so I can stop having calls with the WRONG People?"
These questions can cost you a lot of time and money if you answer them incorrectly.
But I have a surprise for you…
I'm Going To Answer Them For You
You don't have to worry about figuring this all out by yourself…
Or implementing a whole bunch of ideas that you don't have time for that might not even work in the first place.
What you need is to customize the 3 specific systems for your campaigns, and then turn on the sales call machine.
I'm making it sound easy, but it's not. We've just been doing this for over 15 years and arguably some of the best around at doing this.
So, What I'd like to offer you today is a complimentary marketing and sales session with me. Yes, that's right, a FREE plan of action!
WHY?
Two reasons:
1. I LOVE helping people solve their growth and sales problems!! It's what energizes me 🙂
2. I know you're going to love the plan we put together so much, that you MIGHT want to become a client to have my team put this plan in place for you.
Whether you become a client or not doesn't matter. What matters is on this planning and scaling session, I will help you solve your scaling issues…
Here's How I'll Help You Get More Clients:
I will get on the phone with you and talk about your current situation.
You and I will discuss your goals, the marketing & sales assets you have in place and the results of any campaigns you've already run.
We will dive into how your business is structured too.
From this info, We'll develop a customized plan of action to overcome your specific business obstacles so you can achieve your desired growth.
You'll have the direction you're seeking. A "true north star" so you can set your course.
I will answer the question of what to do right now so you can quickly enjoy the profits from our solution.
And we'll give it to you – FREE.
All You Have To Do Is Book
Your Framework Call Below…
Just click the button.
Enter your valid info and answer the questions truthfully.
Once you're done (takes 1-2 minutes), you'll be sent to an online calendar to book your marketing and sales session.
Then make sure you block off the time and actually show up on the call.
It will be the best decision you've made for your business this year
Some Of The Clients Who Scheduled This Call…